There is a wide range of replacement lenses available to cataract patients, each offering different advantages for your post-surgery vision. The most effective lens depends on each patient's individual preferences and goals for their vision. The latest lenses help eliminate the need for glasses or contacts after cataract surgery, providing convenient, effective results for your specific vision requirements.
Artificial intraocular lenses (IOLs) are implanted in the eye to replace the natural lens for patients with cataracts, presbyopia or severe refractive errors. Until recently, IOLs were only available to correct distance vision. These monofocal lenses helped improve distance vision after cataract surgery, but patients still needed glasses or contact lenses for near vision activities like reading and playing cards. Now, advancements in technology have produced Trifocal, Multifocal, and Extended Depth of Focus IOLs that allow patients to see clearly at all distances — near, far and many distances in between. Multifocal IOLs such as TECNIS Symfony®, TECNIS Synergy™, TECNIS Eyhance, Tecnis® Multifocal,  PanOptix® Toric intraocular lens, Lentis Mplus X IOL, and Crystalens® preserve distance vision and correct presbyopia so cataract surgery patients and patients seeking treatment for presbyopia alone can enjoy clear sight without relying on glasses. The procedure to replace a patient's natural lens with a multifocal IOL is the same as that used in cataract surgery.
Click the image above for the full PDF.
Eye on Lens Technology
Advances in lens technology mean improvement in the quality and variety of lenses you may choose from, customized to your lifestyle. Our lens options range from standard lenses that are generally covered by OHIP to upgraded "lifestyle PREMIUM" lenses that may be partially covered by OHIP. Your NTEC doctor can help you decide which lens is the best choice for your needs.
LIFESTYLE Lens Implant Options: See near, far and in between
It's critically important to get an accurate picture of your eye to obtain the best possible vision following your surgery. To choose the correct lens for your particular lifestyle and vision needs, your doctor will perform a series of simple tests to map your eye. Most tests are covered by OHIP, but some more specialized tests require an additional fee. Together, you and your doctor will determine the most appropriate level of testing for your needs.
• A basic monofocal spherical lens provides clear distance vision and is provided at no additional cost.
• An aspheric lens* is designed to provide improved image quality by reducing spherical aberrations. It will provide crisper, clearer images with enhanced contrast and improved low light vision.
• A toric lens* will reduce the need to wear distance glasses in patients with astigmatism (optically oval eyes).
• A multifocal lens** will reduce the need to wear reading glasses. It is designed to provide good focus on objects at multiple distances-near, intermediate and far. These are one of the latest advancements in lens technology.
While current technology is able to provide some range of focus, these lenses cannot replicate the amazing range of vision you had when you were 20 years old. Sometimes glasses for near are still required
* There is an additional cost to the patient for this lens. See separate pricing guide for additional information.
** There are several options for this type of lens that can be specifically suited to your lifestyle and visual desires. Be sure to ask which lens would be best for you.
Monofocal IOLs
TECNIS® Monofocal IOL
The TECNIS® Monofocal IOL is a high-quality engineered intraocular lens used for lens replacement in cataract surgery. The Monofocal lens is safe and efficient while simultaneously providing optical excellence. The lens provides maximized functionality, implementing sharper overall vision.
The TECNIS® Monofocal lens is built to last, and with reputable low-light performance, it improves visual function in all circumstances. This enhances patient safety, providing peace of mind while driving, exercising, and travelling. After cataract surgery, your vision is the one thing you take with you – make it count.
AcrySof™ IQ Intraocular Lens
As we age, the risk of developing cataracts, as well as other visual disorders significantly increases. Many patients with cataracts also suffer from spherical aberrations, which are irregularities within the refractive surface of the eye that can cause blurriness, halos, double vision and poor night vision. There are several artificial replacements, known as intraocular lenses (IOLs), available to be used during cataract surgery, including the advanced AcrySof IQ IOL.
In addition to relieving the symptoms of cataracts, the Acrysof IQ lens also improves vision by correcting spherical aberrations that become more and more common as we age. This lens offers patients enhanced clarity and improves the overall image quality. The Acrysof IQ IOL also filters harmful blue light which not only protects the retina but enhances vision to give vibrant, natural colours. With this lens, patients can see the works as good as or even better than they did when they were younger.
Toric IOLs
TECNIS® Toric IOL
The TECNIS® Toric lens is a high-quality, sustainable intraocular lens designed for patients who are looking for seamless vision correction. The TECNIS® IOL provides individuals with stunning visual performance in all conditions and low-light situations, such as driving at night, with no glistening effects or visual impairment.
By improving any spherical inconsistencies in the eye, the lens provides astigmatism correction alongside clear, beautiful visual acuity. Rid yourself of the need for glasses and still maintain the clear vision you desire with the TECNIS® IOL.
AcrySof™ IQ Toric IOL
Until recently, patients with astigmatism were forced to rely upon glasses or contact lenses even after their cataract surgery, as the replacement IOL did not correct corneal astigmatism. Now, patients can benefit from the AcrySof IQ Toric IOL, an advanced lens that simultaneously removes any pre-existing astigmatism of up to 3 diopters at the same time that the cloudy lenses is removed.
After implantation of the AcrySof IQ Toric lens, patients can enjoy a higher quality of life as they are able to drive, watch television, play sports and enjoy other activities without the hassle of glasses or contacts. This lens is the only solution available to correct both cataract and astigmatism vision problems. Like the other AcrySof IQ IOLs, the Toric lens blocks ultraviolet light and features blue-light filter technology that protects the retina and ensures brilliant, colorful vision after surgery.
Learn More About Toric IOLs for Astigmatism
Extended Depth of Focus Lens
Multifocal and Extended Depth of Focus IOLs
TECNIS® Multifocal IOL
Cataract surgery, which replaces the eye's cloudy lens with an artificial clear intraocular lens or IOL is the most common operation in Canada. More than half of adults over age 65 have some degree of cataract development. People aged 65 and older are also more likely to be involved in car crashes than people in their 30s, 40s, and 50s. Now an innovative night vision-enhancing IOL can help elderly drivers with cataracts avoid accidents.
The Tecnis® IOL was designed to provide cataract surgery patients with high-quality vision comparable to that of young people. Its main concern is improving safety with vision correction. It is meant to improve functional vision – the ability to see objects in varying light conditions – especially at night and twilight and in rain, snow, and fog. This means improved night vision and reduction of spherical aberrations, an undesirable scattering of light that is a common side effect of cataract surgery.
TECNIS® Symfony Extended Range IOL
The latest addition to the TECNIS® family of IOLs offers new optical technology for providing an extended range of vision.
Traditional IOL solutions for treating presbyopia include Multifocals and Trifocals, which work on the principle of simultaneous vision by splitting light into multiple distinct foci, and Accommodative IOLs, which change in shape and power when the ciliary muscle contracts.
Traditionally with these technologies, the correction of presbyopia is commonly thought of in terms of the distinct distance for which functional vision is provided.
Learn more about the TECNIS® Symfony Extended Range IOL
Trifocal IOLs
AcrySof™(R) IQ PanOptix®
The AcrySof(R) IQ PanOptix® is a multifocal correcting intraocular lens (IOL) for patients with presbyopia undergoing cataract surgery. This is a lens option for patients who are looking to correct all levels of vision with a single lens.
With optimum visibility in all lighting conditions and reliable UV and blue light filters, the PanOptix® lens truly allows for flexible transitioning in all day-to-day functions, such as using a computer, outdoor activities, or reading a newspaper.
Read Real PanOptix® Patient Stories Your Guide to Acrysof IQ PanOptix IOL
Alcon AcrySof® IQ Vivity®
The Alcon AcrySof® IQ Vivity® lens provides patients with high-quality distance and intermediate vision, as well as some functional near vision. This is achieved with newly available X-Wave™ technology, a non-diffractive lens that uses available light for continuous extended vision range.
This lens can reduce the need for glasses following cataract surgery. For patients with astigmatism, the Vivity lens is available as a toric IOL, which allows astigmatism to be corrected during the cataract procedure.
Patients using Vivity reported low levels of starbursts, halos, and glare very close to a monofocal lens implant, allowing physicians to implant this lens in patients with retina and other visual conditions.
TECNIS Synergy IOL
Insurance Coverage
Refractive correction services that are offered during cataract surgery can include special-feature intraocular lenses like multifocal and accommodating IOLs, femtosecond laser-assisted cataract surgery, and other specialized diagnostics. These services are an additional cost to patients because they are not deemed medically necessary. Newer innovations for cataract surgery aim to enhance refractive outcomes for patients who are hoping to be independent of glasses or contacts lenses but at a financial cost.
What options are covered by OHIP, and what are the non-insured options?
Cataract Surgery Checklist: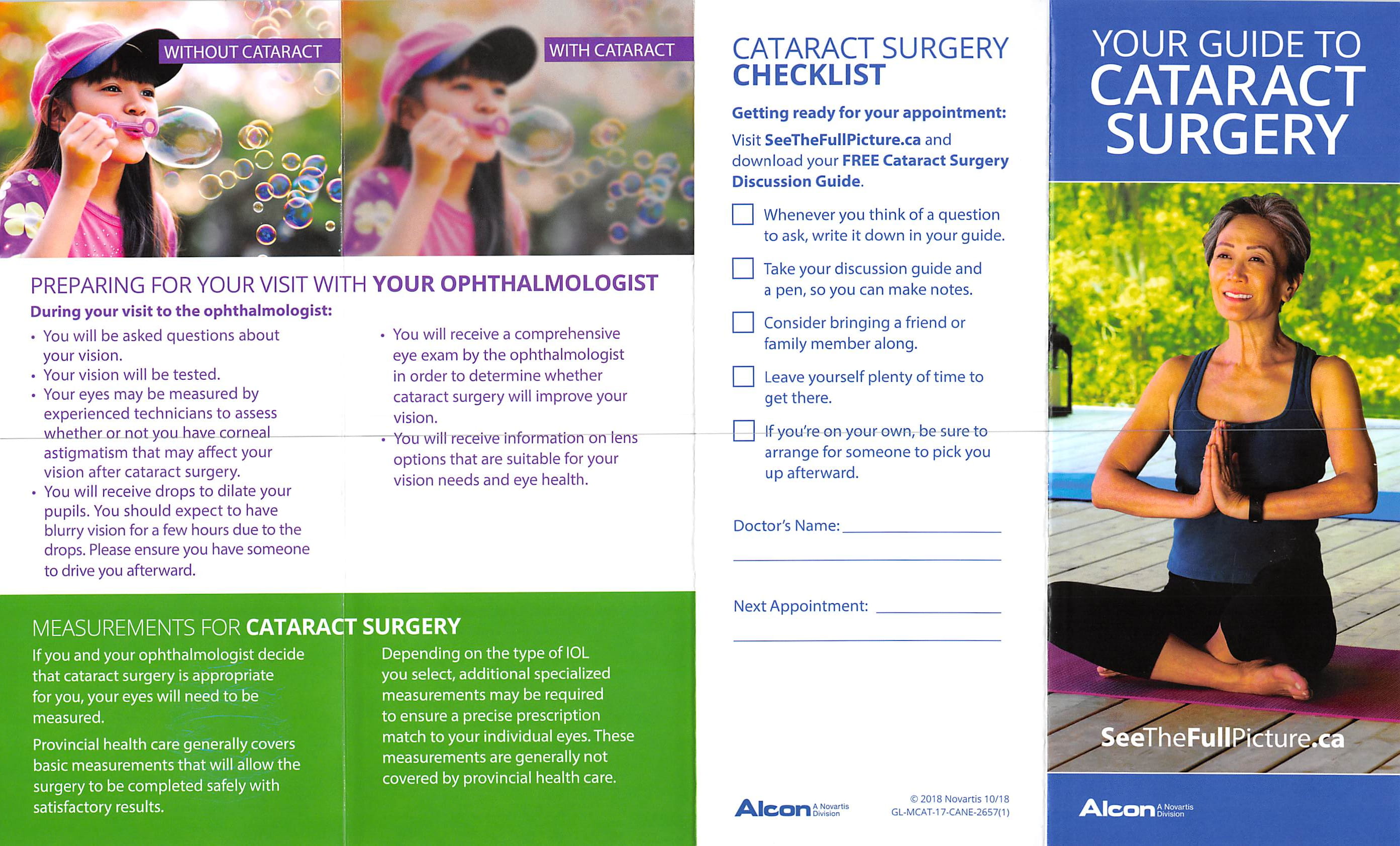 Click the image above for the full Cataract Checklist PDF.