Dr. Theodore Rabinovitch. His celebrated career as a laser refractive surgeon began in the early 1990s. He was an instrumental lead physician at the Toronto Laser Sight Centre from 1993 to 2000, and then from 2000 to 2010, he achieved prominence as a staff surgeon and Head of Clinical Research at the Herzig Eye Institute, where he performed thousands of successful laser procedures.
In addition to his breadth of experience in laser vision correction, he has a wide-range of medical and surgical accomplishments, which have earned him a reputation as a preeminent authority in corneal surgery, intraocular and extraocular inflammation, and ocular surface disorders. He is one of Canada's leading surgeons in cataract and lens implant-related surgery and in cornea transplant surgery and is a leading authority in Keratoconus, a degenerative eye disorder. He is a distinguished and recognized authority in cataract surgery performing bladeless Femto Cataract Surgery and traditional cataract surgery in Toronto for 20,000 patients. His patients are offered an option to see both near and far distances
Dr. Rabinovitch received his Medical Degree from Montreal's McGill University in 1983 and completed his Ophthalmology residency there in 1987. He went on to complete a two-year, post-doctoral fellowship at the world renowned Francis I. Proctor Foundation at the University of California in San Francisco, where he was trained in the most advanced micro-surgical techniques and specialized in the treatment of external eye conditions and rare ocular inflammatory diseases.
Dr. Rabinovitch established his Downsview practice in 1989 and has served continuously as Chairman of the Toronto Ophthalmological Society since he co-founded it in 1991. As NTEC Director and Founder, he understands that your eyes are unique. Each treatment is completely personalized. He brings top expertise to TLCVision YELC Yonge Eglinton and has enjoyed the benefits of the laser vision correction first-hand since 2004.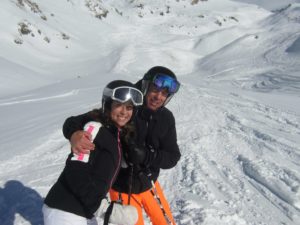 Today, Dr. Rabinovitch is a lecturer and researcher for the Department of Ophthalmology at the University of Toronto. He has also served as a fellow, Professor and panel member at a number of high-profile academic and medical institutions, including the Herzig Eye Institute, FDA, York Finch Hospital Medical Staff, University of Toronto, and Humber River Regional Hospital. He speaks Hebrew and French.
An avid outdoor enthusiast, the procedure allowed him the freedom to participate in activities with his wife and sons – including things like climbing Machu Picchu, taking photographs in the Galapagos, swimming in the ocean, biking mountains, and skiing around the world – without dependence on glasses. Talk to him today about how you can enjoy the same freedom.